The Challenge
Google wanted to develop the way they support retail banks with their technology. Research was necessary to explore the emotional context of retail banking and how digital innovation can add value to customer relationships.
Google wanted to learn from a range of banking customers: from the mainstream, to the technologically progressive (for example those using expenditure tracking apps, and a range of mobile payment services). It was also vital to include some people who were about to switch, or had recently switched banks, so that the experience was fresh in their minds. Given how rarely people change banks, this represented a recruitment challenge.
The Solution
Behavioural Recruitment allowed us to hypertarget the right audience based on their daily online activities. We were able to find early adopters of technology, people interested in new challenger banks, and those who were interested in new products (e.g. Monzo) and used new systems (e.g. Apple Pay, Amazon Payments).
We used over 20 ad campaigns to reach the right audience, continuously testing the copy and creative that historical project data suggested would resonate with the desired audience. We've refined the participant engagement process over the last four years, as we've recruited a wide range of participants from over 70 countries. In doing so, we've also built up a huge bank of 5* reviews to quickly earn the trust of people who are fresh to research.
The hyper-targeted audience were invited to take a full online screener, to both validate what the social data had already told us about them and to fill in details specific to this project. Each person who passed through the online screening stage was then contacted with a final qualification test, to establish their comprehension, creativity and technical ability.
Participants were researched using Liveminds online qualitative platform. This allowed us to get closer to their real lives, because we got feedback before, during and after actual interactions with their bank. We asked people to video their interactions with customer service, feedback on examples of progressive banking technologies, and even draw pictures that captured the emotional relationship they have with their bank. We generated 100,000 words from 21 people, across five days.
The Results
The mobile videos participants shared of their interactions with banks gave us a window into their raw feelings as they unfolded in the real world. This helped us understand some of the triggers of joy and frustration when it comes to AI, virtual assistants and customer service.
Mobile diaries captured gut reactions to banking touchpoints. This helped us understand the impact of communications and service experience on brand relationships.
"I am constantly being bombarded with loans. I want to be rewarded as saver though. How about offering me a points card? Or, cashback on bill payments?"
Participant A
We also explored reactions to innovation in banking to help us understand the frames of reference people use when evaluating the value in innovation.
For example, we showed them Applets from Monzo. Applets lets you set up a special savings account into which you can reward yourself for good behaviour, like dropping £5 into a saving pot, every time you go to the gym. This led to insights around the permission customers grant banks to nudge them towards more positive behaviours.
Splurge alerts warn you when you're near something tempting like a coffee shop. They can also notify your friends to pile in with moral support by texting you. This helped us understand the extent to which customers are open to active interventions from brands in relation to their spending.
We also looked at examples of frictionless interactivity and how people define 'usefulness' from outside of banking, like the Zero Click ordering from Domino's Pizza. This allows you to order just by opening the app. This stimulus took us to useful insights around where they most want to reduce the friction in their banking interactions.  
Participants drawings allowed us to get into more emotionally sensitive, power-dimensions of the bank-customer relationship. It helped us explore how people felt insecure and undervalued.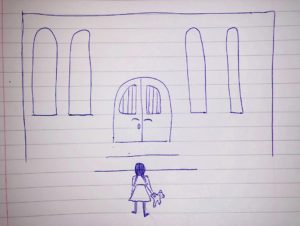 "My bank makes me feel like a little girl, small, insignificant, nervous and in a position of vulnerability. Totally at the whim of others with no power of my own"
Participant B
We also looked at the positive underpinnings of the relationship. Often to do with the way technology enhances their control.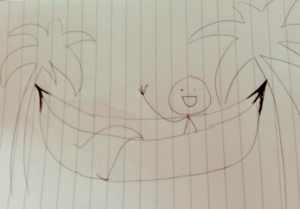 "The picture is of me at home with my bank. Being able to reach my bank online, wherever I am is really handy"
Participant C
By understanding the ways in which banks empower or disempower people, we could help Google focus on where they can add most value and help build more balanced relationships.
The needs that emerged from the study where then mapped to the technology products of Google, to identify ways that Google can be of most value to banks:
Helping banks connect with people by appreciating that the role of technology is often to provide access to a person, not to replace them through automation
Delivering personalisation at scale by helping them leverage customer data to create more forms of value that matters to people
And driving more efficiencies by reducing the friction that still exists between banks and their customers
Georgina Altman, Strategic Insights Manager at Google, was impressed with the quality of the participants and the insights generated, saying:

Liveminds' unique approach to recruitment based on behaviour, gave us authentic and highly engaged participants who we anticipated would be hard to find, given that people do not switch banks that much and since progressive uses of technology in banking are still relatively niche. By surfacing the behaviours and attitudes that are most prominent amongst banking customers we've been able to generate fresh hypotheses and, as a result, ask new and challenging questions of our own internal data. Georgina Altman
Strategic Insights Manager, Google
Andrew Moody, Industry Head for Banking and Payments at Google said the research was instrumental in shaping how Google think about the banking sector and how they engage their most senior clients on the industry's challenges and opportunities.

Our research with Liveminds was instrumental in shaping how we think about the banking sector and how we engage our most senior clients on the industry's challenges and opportunities. The research ultimately helped us to develop a deeper and more nuanced way of thinking about consumers in this sector, which has enabled us to deliver crisper strategic recommendations to our retail banking clients. It has helped us to offer clearer guidance on where Google's partnership and ecosystem can unlock the most value. Andrew Moody
Industry Head for Banking and Payments, Google