Mobile devices have completely transformed how we access the internet, with 57% of all internet traffic now coming from them. The majority of the 5 billion of us now using the internet prefer the convenience of mobile to desktops and tablets. That's a huge change since 2012, when Liveminds launched Europe's first mobile qualitative app.
This convenience and ubiquity gives researchers unprecedented access to authentic and emotive 'in the moment' insights. Mobile devices are people's primary camera now, whether in home or outside of it. In fact, recent research shows that over 90% of all photos taken in 2023 were shot on a smartphone. Bad news for Kodak, but great news for qualitative researchers…
That's not all that has changed since 2012. Mobile browsers are now much more powerful and reliable, and with this we have reimagined the mobile experience on Liveminds. Migrating to the mobile web keeps it simple and seamless for participants and removes the need to install an app, for what may be a one-off use.
New Liveminds mobile in 2 minutes
New mobile qualitative - the 5 key features
Multi-media stimulus
With the average smartphone screen size now nearly double what they were in 2013, and at a much higher resolution, crucial details in stimulus like packaging designs and print ads won't get lost when viewed on mobile devices.
Participants can now view and respond to multimedia stimulus in any Liveminds question in which you share them, whatever device they are using. Researchers can post videos, images, audio or indeed files of any type to be downloaded and viewed.
You can have multiple bits of stimulus in the question, so for instance you could display 3 different logo ideas or 5 different home page designs.
You can also mix and match the types of stimulus in one question. So for instance you could say 'look at this print ad' or 'look at this tv ad' and ask them to comment.
You can also embed videos hosted on other websites, so, for instance, you could refer to competitor's tv ads and ask participants to comment on them.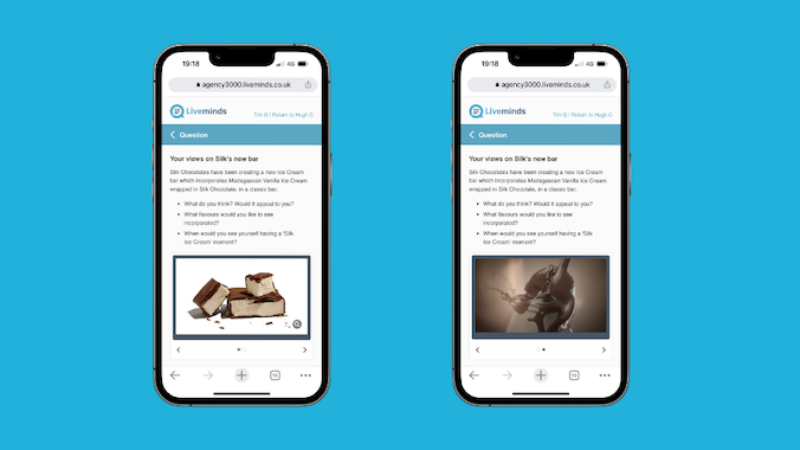 Conversations Your Way
There are 3 simple question types to power your qualitative research in Liveminds, which enable researchers to structure any activity, in any way.
Private questions start separate conversations between you and each participant. So one participant can't see what another one has said. Typically you'd use this for 1 to 1's, diaries, mobile ethnographies, blogs or simply any sensitive subject you want to discuss.
Group questions start separate conversations between you and each group. So for instance a Regular Buyers group might have one conversation in response to a question, a Lapsed Buyers group another and there wouldn't be any interaction between the two groups.
Open questions enable you to bring anyone in the project, from any group, together for a single conversation.
All of these question types are now available on mobile to participants. This enables them to both to share their experiences and tell their stories in the moment, but also to engage in conversation with researchers and/or their fellow participants.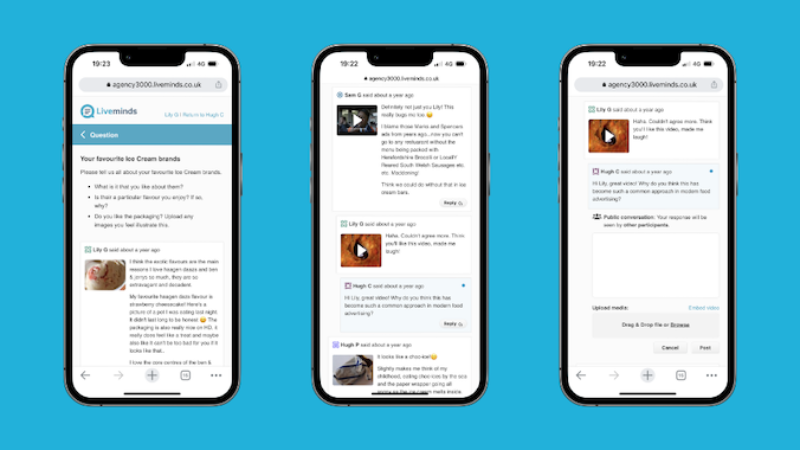 No apps to download
Participants now don't need to download an app to engage fully on their mobile device. This onboards them into the project in the quickest and easiest way possible and removes any concerns participants may have about downloading an app for what might be a one-off project. This simplifies the project management for researchers, recruiters and us!
Enabling 4 billion participants
Participants can now use any device to access your qualitative project at any point. This means you won't miss any thought or experience they want to capture and share, as close to that moment as possible. It also gives you access to the widest range of participants as possible, all across the world.
It removes the need for more modern devices that are still acceptable to the requirements of the Apple app store and Google Play. Furthermore, it simplifies the process for key markets like China, where over a billion potential participants don't have access to the Google Play store.
Easy but secure access
Liveminds uses unique invitation links for each participant, to ensure the most secure access to your qualitative project. Participants use their email address as the user name and choose their own password, so it's as easy to remember as possible. Now there is no need for them to also use and remember an account name, simplifying their set up, access throughout and the research for all parties!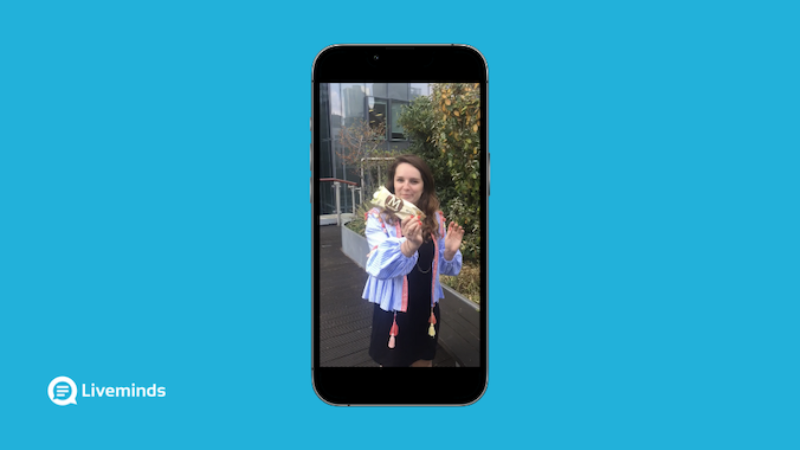 Try seamless mobile qual today
Discover the benefits of the new mobile qualitative experience on Liveminds for yourself. With prices starting at just £310 or $360 a week we think it's a game changer for qualitative researchers. Get in touch to arrange a demo with me personally or we can set up a simple test project for you to experience it for yourself.