This has been a hugely exciting year for everyone at Liveminds, we've completed a round of international private investment, won the MRS 'Best Support Services' award and had triple digit revenue growth.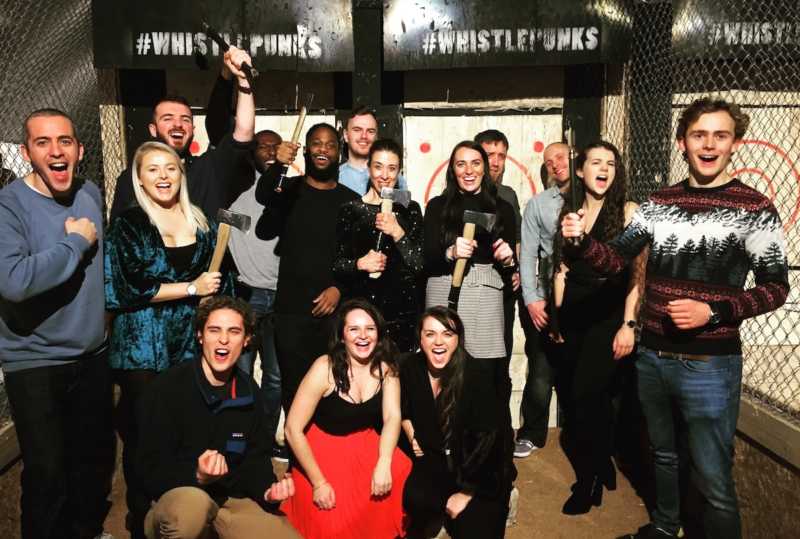 Following our fun-filled Christmas party, which began with competitive axe throwing (shown above), I wanted to properly introduce the new starters who've joined the Liveminds team in 2018.

BEHAVIOURAL RECRUITMENT
Shannon Pywell was the first to join us earlier in the year as a Behavioural Recruitment Executive. Shannon has a background in eLearning development and a Psychology Degree from Bournemouth University. As a self-confessed dog enthusiast and a committed foodie Shannon loves trying out new vegan recipes in her spare time.
Efosa Imafidon began his new role as a Junior Behavioural Recruitment Executive in June. Coming from an event management and health and social care background, Efosa lists his main loves as God, family and football - he's a massive Manchester United fan. Sport is a big part of Efosa's life, if he's not at the gym you'll find him playing football, badminton, basketball, table tennis or swimming.
Kia Pettitt-Brandtner joined Liveminds as a Behavioural Recruitment Executive in October, having recently completed a Masters degree in Industrial/Organisational and Business Psychology at University College London. Kia's wide-ranging interests include consumer psychology, behavioural economics, David Hockney and jazz.
Josh Booth is the most recent member to join the team as a Behavioural Recruitment Executive. Josh recently graduated from the University of Sheffield with a Master's degree in Bioengineering. As a live music aficionado Josh enjoys going to festivals and gigs whenever he gets the opportunity.
ACCOUNT MANAGEMENT
Eugene Kwao joined Liveminds at the start of the summer as a Junior Account Executive. He has a background in sales, having previously worked as a marketing agent at Zenith Staybrite as well as some accounting background from his time at the University of Lincoln. Eugene has a passion for all things Liverpool FC as well as being a massive Game of Thrones fan.
Erica Siebert moved to London from Chicago to join Liveminds as an Account Executive during the summer. She has a background in advertising and public relations, and is currently studying International Business at the University of Chester. Erica loves trying new restaurants and exploring new neighbourhoods and is looking forward to all that London has to offer.
I'd like to welcome all our new friends to the Liveminds team and hope you enjoy working with them as much as we do.